COVER STORY:

Gimmick Matches-Friend Or Foe?
70s Champs Like Grier Defended Titles In Gimmick Matches
Every month in the FCWF, when the pay-per-view comes around, it's dotted with gimmick matches of various types. Some love them and some hate them. We thought we'd ask our four resident experts their opinions on matches involving things like caskets, ladders, and steel cages.
"I personally hated gimmick matches when I was a manager," says former FCWF manager Shelly Shaw, "And I think all managers do. The problem for managers is, you're in control of so little. All you can do is prepare your competitor the best way you can and get her the best matches you can. After that, you watch and hope. And, with gimmick matches, there's so much more that's out of your control. Anything can happen in those matches…and I mean anything. You can have your girl in peak form with a great game plan and something fluky happens that gets her beat. Now that I've retired from managing, though, I love some of the gimmick matches. They're fun and exciting and I enjoy watching them."
FCWF observer Joe Shaw has a different take. "Gimmick matches aren't better or worse than regular matches, just different. Sometimes it takes a different skill set to win than in standard matches. Ladder matches, for example, require a lot more agility than standard matches and other match types, like street fights, are more about brawling ability than wrestling. A competitor's management team has to be careful about what types of gimmick matches it will book its charges in, but use the right gimmick and a competitor who might be at a disadvantage in a regular match could have an advantage in, say, a steel cage."
FCWF analyst Don Pritchett has a favorable view of matches of this type. "I think they're exciting. They're fun for the fans. They're something different, and they sometimes bring out the best in competitors. Some of the best matches I've ever seen were gimmick matches…casket matches, buried alive matches, scaffold matches. All of them can be great to watch and that's what the federation is about…entertaining the fans."
As usual, the last word goes to FCWF color commentator Cy Howard. "Gimmick matches can be overdone. Less is more when it comes to matches of these types. If you saw a cage match every week, the effect would wear off. Same for all the other match types. I think it's a good idea that you only get to see gimmick matches at the pay-per-views. As for what I think of them, I think it depends on the match and the competitors. Some are great, others mediocre. It's all about the talent you have in them. I mean, in their primes, you could have matched up Brigitte Nielsen and Geena Davis anywhere with any kind of rules and you'd have had a great match. The same is true today. It's about the competitors, not the stipulations."
WHO'S HOT
By Don Pritchett
Jessica Alba
OK, everyone knows Alba is hot, but we're talking about in the ring, and, while the brunette stunner is always a top performer, considering she's never tasted defeat, she's never been in finer form than she is right now, as recent performances show. Her destruction of Anne Hathaway on a weekly card earlier this month came on the heels of two superb efforts on the Snow Brawl and Ice Wars pay-per-views. Her opponent both times was Jennifer Lopez, and Alba dominated the lovely Latina both times. And the bad news for opponents is that Alba is likely to keep improving, seeing that she turns 26 this month. It's only a matter of time until Jessica gets a shot at the gold, and I wouldn't want to be in her way when that happens.
WHO'S NOT
By Cy Howard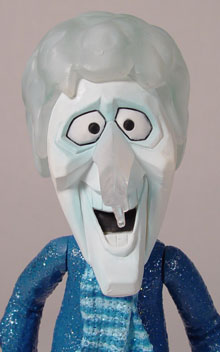 Tyra Banks
Things just aren't going very well for the leggy supermodel lately. Banks hasn't won a singles match in six months, and, recently, has fallen victim to Shannen Elizabeth on a weekly card, Kristanna Loken at Ides of March, and Heidi Klum in the qualifying round for the Queen Of The Catwalk Tournament. Now, while none of those opponents are exactly soft touches, Tyra's ofer over the last half a year points to a bigger problem. Right now, she's simply not the performer she was a year ago, and Cy's not sure why that is. She's still got all the physical tools, and she hasn't forgotten all she knows about competing in the FCWF, but something's amiss, and somebody on Team Tyra needs to figure out what that is to get Ms. Banks back on track.
A Hit!
Hit Or Miss
By Shelly Shaw
It happens every month. The FCWF signs some new talent and folks speculate about how the new competitors will do. Well, let's take a look back at the women who were signed a year ago, and see how they've faired in the big time.
Kim Director-Signed April, 2006…This beautiful blue-eyed brunette would seem to have all the tools to make an excellent FCWF competitor. Unfortunately, she hasn't been active enough in her first year to make an informed judgment. What I've seen, I've liked, but there simply hasn't been enough of it. While Kim still has the time and the ability to be a top-level performer, her lack of activity and a relatively low Hollywood profile that means she isn't exactly packing the seats with her name makes her signing, for now at least, a MISS.
Lauren Holly–Re-Signed March, 2006…Redhead Lauren hasn't exactly taken the FCWF by storm since her return over a year ago. While she was never a top contender during her first run in the federation, she was a well-respected competitor who won some big matches. This time around, however, things have been different. Holly hasn't been horrid in the ring, but she hasn't been great either and hasn't tasted victory since her return, and, considering that she turns 44 this year, one wonders if things are going to get much better. Add to the less-than-impressive in-ring results the fact that Holly isn't exactly a huge draw at this point and there's no question her signing is a MISS.
Rachel McAdams-Signed April, 2006…Canadian blonde Rachel has come about as close as you can to taking the federation by storm. Within 8 months of her signing, McAdams had catapulted into the Top Ten with a series of impressive victories and had several pay-per-view appearances to her credit. Added to her in-ring success is the fact that she remains a rising star in Hollywood and, with a solid following, clearly sells tickets. There's little doubt that Rachel, who doesn't turn 31 until later this year, has a bright future in the FCWF, making her signing a solid HIT.
Kelly Monaco-Signed March, 2006…This athletic brunette made quite the impact in her first year in the federation. It's not every year that a competitor signs in March and, in October wins the Queen of the Mansion Tournament, but that's exactly what Kelly did. Monaco also has a decent following as a result of her stint on "Dancing With The Stars", and, at only 30 years of age, she has the potential for a long, successful career in, as Cy would call it, "this-here federation" making her signing a HIT.
Tera Patrick-Signed March, 2006
…Much like Kim Director, there's no reason Patrick can't be a high-level competitor in the FCWF. With her size, athletic ability, and relative youth (turning 31 in July), Patrick has all the physical tools to be something special. Also like Director, however, her lack of activity during her first year in the federation, gives me nothing to go on in evaluating her signing. And, of course, while Patrick has a bit of a name, she doesn't have a large enough fan base for her signing to be considered a success despite no in-ring evidence to back it up. Like Director, Patrick may some day become a star in the FCWF. Right now, however, her signing is a
MISS.